I got my hair cut today. just a trim.
Just to get the dead ends off, so it can grow without breaking.
The lady there, Maria, she is very nice. She's been cutting my hair on a pretty regular basis for about 4 years now.
I always feel guilty when I go somewhere else and get it cut.
I know it's been over a year since I got it cut off for locks of love. org.
This is from 2005, isn't it wenchie?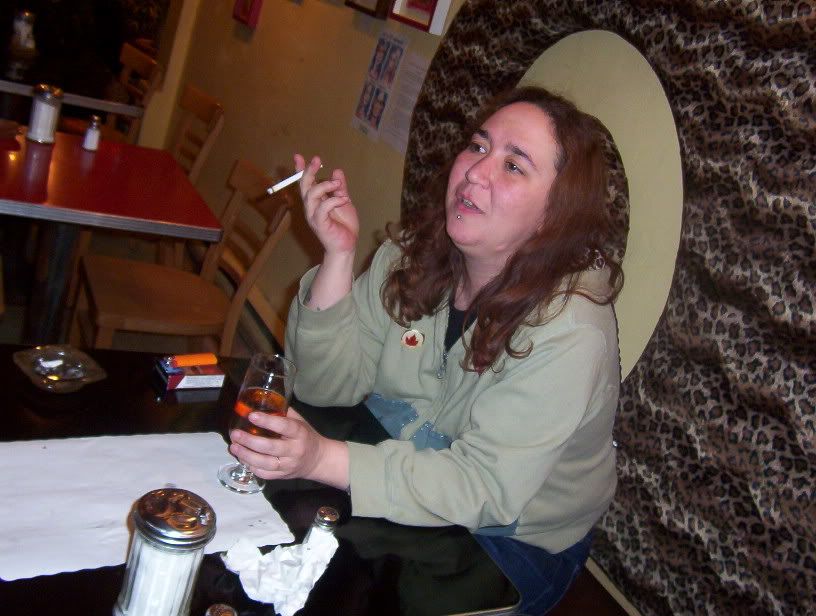 The lady talks a lot while she cuts my hair, She always asks what is new in my life. I always feel bad because I really don't have any good gossip for her.
I still have the same job, live in the same place, same boyfriend, same boyfriends kid.
I told her that I turned 40 this month, she was not expecting that.
She could have been doing that thing they teach you in beauty college: "Any time the custy says, this or that is wrong, or bad, go 'GASP? are you kidding? you are the most gorgeous thing on the planet, universe, galaxy!!'"
Either way, it keeps me coming back to her. That and her location. I can see the place from the front window.
The best hair cutting experience I ever had was in Reno, Nevada.
It was so many years ago, one of the first times I got my long, mid-back length hair cut off
The stylist came out with a beard, long hair and a leather vest with no shirt underneath.
He said, in a gruff voice stained from years and years of cigarettes and whiskey,"Judith?"
I followed him to the chair.
He put his fingers in my hair and pushed it forward.
He said to me, and these words that changed my life forever, hair-wise:
(say it like nick nolte would) "Ohmigod, girlfriend you would look THO great in a bob."